Fuji X-Pro2: "Excellent High-ISO at 12,800, Fast AF, 100% Convincing!" :: Wedding with X-Pro2 :: EF-X500 Images + more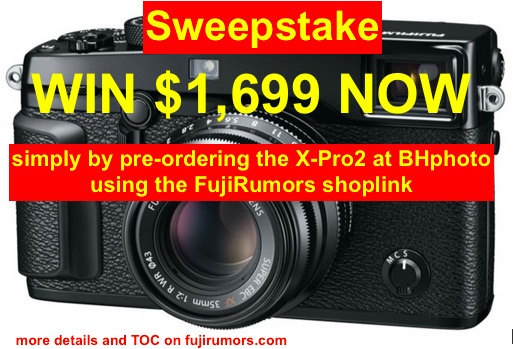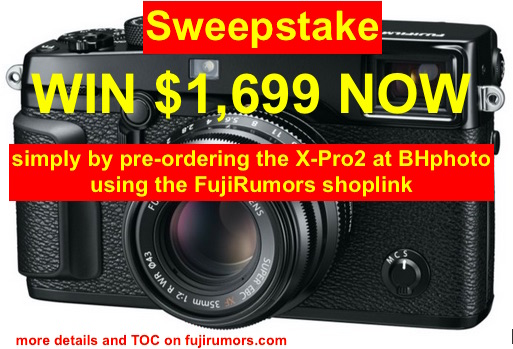 Fujifilm X-Pro2: USA: BHphoto – Win $1,699 by pre-ordering at BH via FR* / AmazonUS / Adorama / EUROPE: AmazonDE / AmazonUK / WexUK / PCHstore / AmazonITA / AmazonFR / AmazonESP /   AUSTRALIA: CameraPro
* pre-order the X-Pro2 (body or kit) at BHphoto using the FujiRumors shoplink and you'll already have entered the sweepstakes. The lucky winner will get an Amex gift card pre-valued at $1,699.00. By joining this Sweepstakes, you agree with the Full Terms and Conditions. More detailed description of the Giveaway here.
Fujifilm X-Pro2
Shooting Weddings with the X-Pro2 – Kevin Mullins
_ _ _
I don't know you, but after looking at the first samples and reading the first reviews, I have the feeling that the X-Pro2 delivers so much more than some would have expected.
X-Trans III Rocks :)
RESOLUTION: Fuji said that the new 24 MP X-Trans III MP has the same resoution of 36MP Bayer sensor. And this might be true, since already dpreview tests show how the 16MP X-Trans sensorII has a "Bayer-equivalent" resolution of 24MP.
So that's the first good news. But there is so much more
High ISO + AF: One of the big surprises was the high-ISO performance, which is just absolutely amazing. It has been pointed out in several reviews, and now also the very Popular German site Chip.de says it in this Video here: "High ISO is excellent, even at 12,800!" Moreover they praise the AutoFocus and say that the X-Pro2 can convince all along the line and will satisfy the needs of every Pro photographer. And if we can trust jonasrask in his review here, the waxy skin tones are gone!
I remember launching a poll time ago, where I asked you if Fuji should go Bayer or keep the X-TransIII sensor. I voted for X-Trans… and after the X-Pro2, I'm even more sure of my choice.
More X-Pro2 links
First of: Rico Pfirstinger is working on the most amazing and comprehenisve X-Pert Corner First Look ever about the X-Pro2! So stay tuned, and in the meantime enjoy his Flickr images and images ISO range from 100 to 25600. For the official Fuji Samples click here.
Eric Bouvet X-Pro2 images from Laponia at visionhd /Bokeh Hands-On Video /
In case you missed it: Live Blogging here – with lots of links to first looks
If you missed the Fujfilm Live Streaming, you can see Part 1 here and Part 2 here.
Bert Stephani First Look at X-Pro2
XF100-400 / EF-X500

First impressions at fujixphotoworkshops /
Fujinon XF100-400: USA: BHphoto / AmazonUS / Adorama / EUROPE: AmazonDE / AmazonUK / AmazonITA / AmazonFR / AmazonESP / PCHstore / WexUK / AUSTRALIA: CameraPro
Fujifilm X70: USA: BHphoto / AmazonUS / Adorama / EUROPE: AmazonDE / AmazonUK / AmazonITA / AmazonFR / AmazonESP / PCHstore / WexUK / AUSTRALIA: CameraPro
Fujifilm X-E2s: USA: BHphoto / AmazonUS / Adorama / EUROPE: AmazonDE / AmazonUK / AmazonITA / AmazonFR / AmazonESP / PCHstore / WexUK / AUSTRALIA: CameraPro
Pictures of the New Flash at dpreview