Fuji X-Pro2 (and XF100-400) available for pre-order at AmazonUK – Release February 26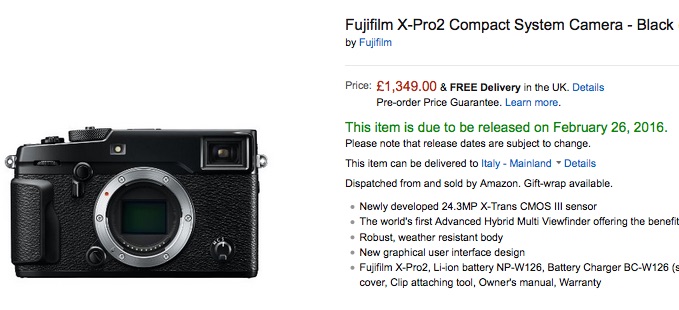 For some reason, Amazon Europe is pretty lazy these days, to add the Fujifilm X-Pro2 to their system. However, it's now finally available for pre-order at AmazonUK. In Europe, the X-Pro2 is also available for pre-order since day one at WexUK and PCHstore.
Also the XF100-400 is now available for pre-order at AmazonUK here for £1549 (available Februar 22). Other Amazon EU store have it listed, but without price. You can find it for €1899 here at PCHstore.
The Fuji X70 is listed at Amazon Europe, but without price and not available for pre-order. However, PCHstore shows it for €699. Maybe, just like in USA, Fujifilm has revisited its price tag on the X70, and that's why some stores still have to display it with the correct price.
The X-E2S is listed at AmazonUK for £549. Listed without price at other AmazonEU stores, it comes for €699 at PCHstore.
Fujifilm X-Pro2: USA: BHphoto – Win $1,699 by pre-ordering at BH via FR* / AmazonUS / Adorama / EUROPE: AmazonDE / AmazonUK / WexUK / PCHstore / AmazonITA / AmazonFR / AmazonESP /   AUSTRALIA: CameraPro
* pre-order the X-Pro2 (body or kit) at BHphoto using the FujiRumors shoplink and you'll already have entered the sweepstakes. The lucky winner will get an Amex gift card pre-valued at $1,699.00. By joining this Sweepstakes, you agree with the Full Terms and Conditions. More detailed description of the Giveaway here.