Fringer NF-FX Nikon to Fujifilm Smart Autofocus Adapter Firmware 1.40 Released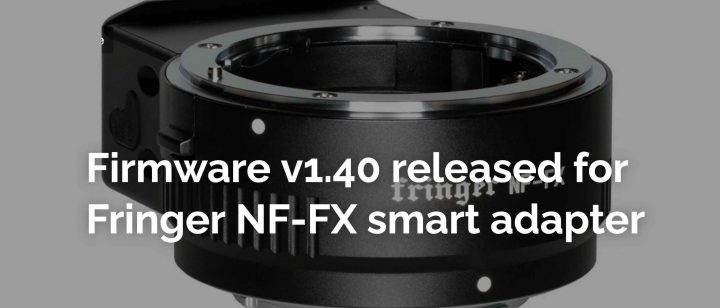 Firmware 1.40 for the Fringer NF-FX Nikon to Fujifilm X AutoFocus adapter is now available for download.
Here are the details:
Version 1.40
Bug fixed: When cameras equipped with X-Trans IV CMOS (X-T3, X-T4, X- S10, etc.) work with some of fast, telephoto and macro lenses, there may be repeatedly AF hunting when aperture isn't wide open.
Bug fixed: On some cameras like X-T3, after a photo was taken, if playback button is pressed and then shutter button is half-pressed in short time, the camera may be frozen until the adapter or the battery is taken off the camera.
Issue fixed: When using some F mount lenses with certain internal defect, it may cause the camera blackout and reboot repeatedly. Now it works normally with those lenses with that defect.
Fixed PDAF issues for some lenses of the following model: Lens didn't get recognized by the adapter due to different lens firmware version.
TAMRON SP 70-200mm F/2.8 Di VC USD A009
Added following lenses to the tested and optimized lens list:
SIGMA 30/1.4 EX DC HSM
TAMRON 70-210mm F4 Di VC USD A034
SIGMA 24-35mm F2.0 DG HSM A015
Please visit the official website to download the firmware and its release notes. Follow the instructions in the release notes or user's manual to update your adapter.