[UDPATE] FR-readers: "Fuji X-Pro2 Shipping Delayed to March in Europe. Firmware not ready yet" + First €90 Price Drop in France!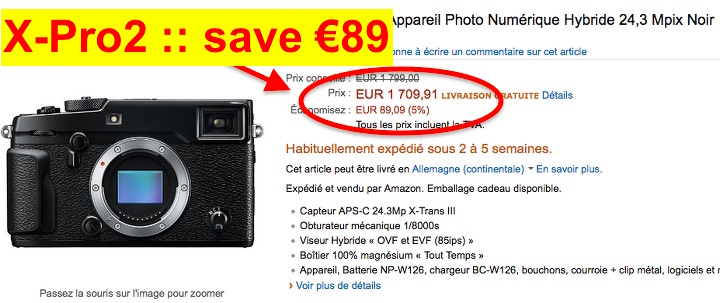 Fujifilm X-Pro2
USA: BHphoto / AmazonUS / Adorama / CANADA: AmazonCA / EUROPE: AmazonDE / AmazonUK / WexUK / PCHstore / AmazonITA / AmazonFR / AmazonESP /   AUSTRALIA: CameraPro
[UPDATE] Just now the Japanese site dc.watch confirms, that the release has been postponed to early March. The reason? 1) Delay in Production and 2) there were more pre-orders than expected, so Fujifilm will need more time to fill the warehouses.
The Good News: we have the first price drop on the X-Pro2. Amazon France is selling it with a €90 rebate for €1709. – shipped and sold by AmazonFrance
The bad news: I've received feedback from some FR-readers, who told me that the Fujifilm X-Pro2 delivery in their countries (Netherland and Germany) has been postponed to mid-March. One specific FR-reader also told me that this is due the fact, that the X-Pro2 needs still some work on the Firmware.
I hope it's really just a Firmware issue and no hardware problem. In the first case the fix should be done quickly, while in the second case, it could lead to longer waiting times… worldwide!
In the past, we saw enough Fuji gear being delayed for many months (remember X100S?). I hope the X-Pro2 will not write another chapter in the "Waiting for Fuji-Godot" book.
In the meantime, US-stores like BHphoto still mark the X-Pro2 available for February 25. We will soon see, if something changes.