Focus On Glass: Talking Fujinon XF80mmF2.8 1:1 Macro and About the APS-C Macro Advantage over FULL FRAME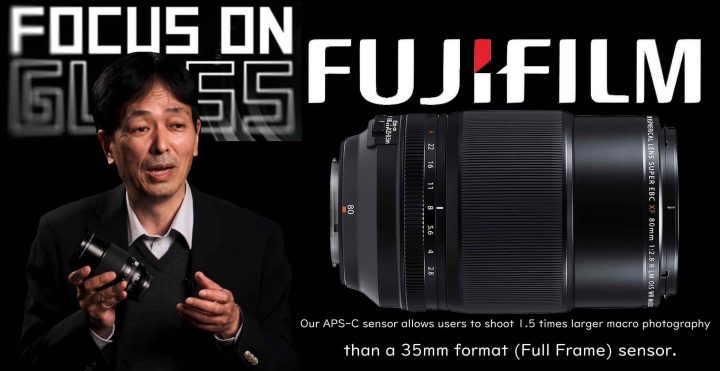 If you are one of those, who defines how good a lens is mainly on how sharp it is, then you'll consider the XF80mmF2.8 1:1 Macro lens a fantastic lens.
It is clinically sharp and one of the best, if not the best lens in the Fujinon X system.
So let's talk about this lens, starting from a recent "focus on glass" episodes, where Fujfilm talks about the XF80mmF2.8 Macro. They say:
Fuji's APS-C sensor allows to shoot 1.5 times larger macro photography than a full frame sensor
Fujifilm is strongly committed to APS-C
the 80mm maximizes the APS-C value proposition and allows user to experience macro photography without sacrifice
the synergy between Fujifilm color reproduction and lens technology offers a unique and unrivaled product on the market
uses floating focus system to obtain high image quality. New autofocus system was developed for this lens
fast and accurate focus
Since this is a marco lens, Fujifilm opted for an optical image stabilization system that suppresses shift shake
uses many ED lenses to minimize chromatic aberration at wide apertures
creates beautiful bokeh at 1:1 magnification ratio
Quite frankly, though, I think the main advantage of APS-C lenses is that you can make them smaller (and consequently cheaper) than full frame lenses. If then in certain areas they have other advantages, that's a welcome, but minor advantage.
FYI, I'll add also the video about the glorious XF16mm f/1.4.
thanks to floating focus system the XF16mmF1.4 can achieve minimum focus distance of 15cm
NanGI coating to reduce flare
Follow FujiRumors on Patreon, Facebook, Instagram, RSS-feed, Youtube, Flipboard and Twitter
Focus on Glass – XF80mmF2.8 Macro and XF16mm F1.4