Firmware update (ver. 1.03) for Zeiss Touit lenses available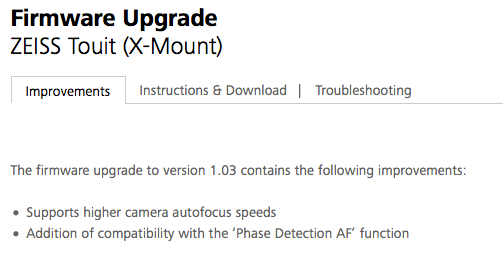 The new firmware for the Zeiss 12mm and 32mm is available here. It adds compatibility with Phase Detection AF.
On the FR-facebook wall Mike shared his first impression of the new firmware: "I have both lenses. For 2.8/12,AF speed is already moderately fast before update. It is a bit faster after update, but not remarkably faster. For 1.8/32,AF speed is a bit slow before update. It is now noticeably faster!"
At BHphoto, AmazonUS and Adorama the Zeiss lenses are still available at the discounted price of $720 for the 32/1.8 and $999 for the 12/2.8
The permanent price drop could indicate that the Touit lenses for Fuji X-mount are not selling well. I've heard that Zeiss will focus to produce lenses for FF CSC and DSLRs in the next time… so we shouldn't be holding our breaths on any new Touit lenses in the near future (except for the 50mm 1:1 macro coming this spring).
and thanks for telling me via FR-facebook of the new firmware, Stefan and Mike.
Zeiss Touit 12mm Amazon, Adorama, B&H, eBay Zeiss Touit 32mm Amazon, Adorama, B&H, eBay