eXperience tour: Fujifilm is on the road + X100S impressions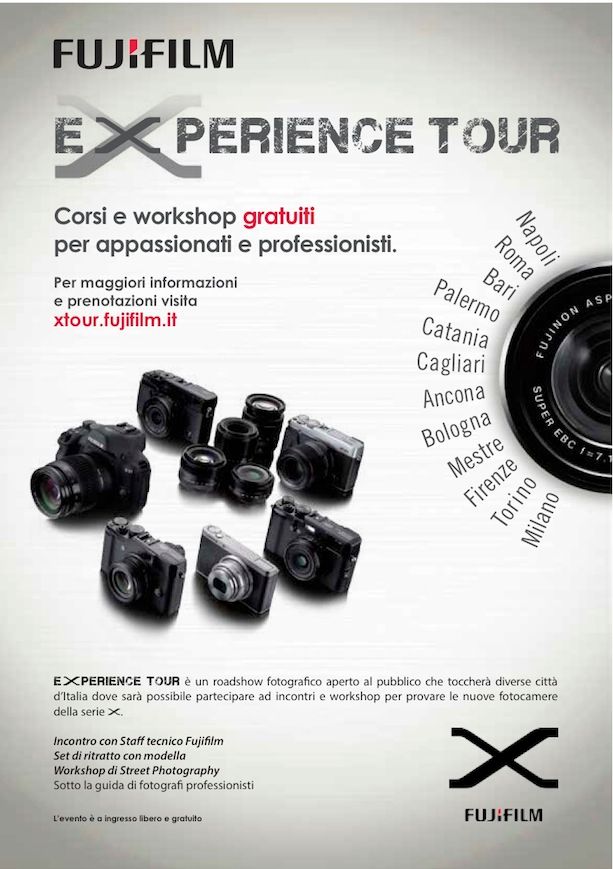 Lucky Italians!
You want to know more about the Fuji X-series, included the latest X100S and X20 (and the [shoplink 8614]X-E1[/shoplink], [shoplink 8616]X-PRO1[/shoplink], lenses, [shoplink 9017]X-S1[/shoplink], [shoplink 8634]XF1[/shoplink]…)? You'd like to participate, for free, to a workshop and test these cameras at work? Then you should know that Fujifilm Italy has organized a photographic roadshow, the "eXperience tour". You can put your hands on the newest cameras and actually work with them! Meet Fuji's technical staff, make some studio shots (with a model) and participate to the street photography workshop.
The eXperience tour will have a great start! Massimiliano Angeloni and Donato Chirulli, the riflessifotografici-guys will run the first events in Naples (13 April) and Rome (14 April). So, the Fujifilm road show starts with two talented X-photographers! I stumbled on their website a few months ago and wrote this post here. Since then I've followed their work with great interest. I'm sure you'll benefit from a workshop with them!
So, don't miss this opportunity, if you are curious about the X-series, this could be the right way to get in touch with it. Just reserve your place at the event you want to participate, and enjoy your Fuji-day at the eXperience tour.
Napoli 13 Aprile / Roma 14 Aprile / Bari 20 Aprile / Palermo 11 Maggio / Catania 12 Maggio / Cagliari 18 Maggio / Ancona 25 Maggio / Bologna 26 Maggio / Mestre 8 Giugno / Firenze 9 Giugno / Torino 15 Giugno / Milano 16 Giugno
X100S
laroquephoto initial X100s impressions: "manual focussing: wow". Read it all and see his shots here.
"It's the greatest camera I've ever owned. No. Freaking. Joke. It's perfect. I wouldn't change a thing." This is what Zack Arias says in the teaser to his upcoming X100s review here. He also posted a few shots here, saying: "Fuji is the new Leica."
X100S: AmazonUS / BHphoto / Adorama / AmazonDE / AmazonUK / AmazonITA / DigitalRev / your ebay
X20: AmazonUS (black – silver) / BHphoto (black – silver) / Adorama (black – silver) / AmazonUK (black – silver) / AmazonDE / AmazonITA / DigitalRev / your ebay
FR-reader: – Tancredi: "Hello Patrick. My name is Tancredi De Lisi, I am an italian freelance photographer, right now I'm in Vietnam and I decided to travel only with a Fuji X-Pro1 with lens fuji 14-18-35-60. I am writing a photo/report in real time on my site: click here (translated version)