[UPDATE: Product removed] Dutch store has the XF 140-400mmF4.0-5.6 for pre-order…. for the tidy sum of €2000!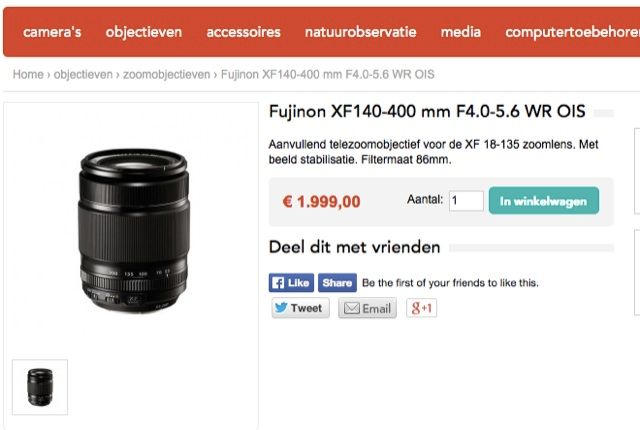 [UPDATE: the store removed the XF140-400 from their page]
Dutch store cameracompleet has, already, the XF 140-400mmF4.0-5.6 available for pre-order. You can add the lens in the winkelwagen (the cart) and place your order for the tidy sum of €2,000!
The Fujinon XF 140-400mmF4.0-5.6 is expected to be released in Winter 2015 (so in about a year from now).
Google Translated Product descritption
The Fujifilm Fujinon XF 140-400mm f / 4.0-5.6 R LM OIS lens is a serious telephoto zoom lens for X-camera system. With a range of up to 400mm, this is the zoom lens for wildlife and sports photography. It forms with the new 18-135mm a great torque which includes a very broad range.
The minimum focusing distance is 1.1 meters throughout the zoom range and lens is very fast focusing. Thanks to two linear AF motor focus the lens in 0.28 seconds. The lens is also equipped with an image stabilization system that can compensate up to 4.5 stops. A tripod bracket ensures perfect weight distribution of this lens when used on a tripod.
The Fujifilm Fujinon XF 140-400mm f / 4.0-5.6 R LM OIS lens has seven aperture blades and is made up of fourteen lens elements are divided into ten groups. There are two ED-glass elements built-in and a Super-ED lens element for the control of chromatic aberrations. Internal reflections are prevented by a special coating on all glass surfaces. The lens mount, the housing and the focus ring and zoom ring are made of metal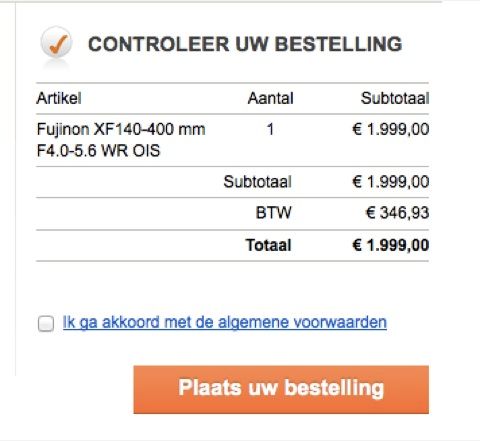 Original description:
De Fujifilm Fujinon XF 140-400mm f/4.0-5.6 R LM OIS objectief is een serieus telezoomobjectief voor het X-camera systeem. Met een bereik tot 400mm is dit dé zoomlens voor natuur- en sportfotografie. Hij vormt met het nieuwe 18-135mm een geweldig koppel dat een zeer ruim bereik omvat.
De minimale focusafstand is 1,1 meter over het gehele zoombereik en het objectief is razendsnel met scherpstellen. Dankzij twee lineaire AF-motoren stelt het objectief scherp in 0,28 seconden. Het objectief is bovendien uitgerust met een beeldstabilisatiesysteem dat tot 4,5 stops kan compenseren. Een statiefbeugel zorgt voor een perfecte gewichtsverdeling van dit objectief als hij op een statief gebruikt wordt.
De Fujifilm Fujinon XF 140-400mm f/4.0-5.6 R LM OIS objectief heeft zeven diafragmalamellen en is opgebouwd uit veertien lenselementen die zijn verdeeld over tien groepen. Er zijn twee ED-glaselementen ingebouwd en één Super ED-lenselement voor het tegengaan van chromatische abberaties. Interne reflecties worden voorkomen door een speciale coating op alle glasoppervlakken. De lensmount, de behuizing en de focusring en zoomring zijn uitgevoerd in metaal. – See more at: http://webcache.googleusercontent.com/search?q=cache%3Awww.cameracompleet.nl%2Fobjectieven%2Fzoomobjectieven%2Ffujinon-xf140-400-mm-f4-5-6-wr-ois#sthash.xO1mcpns.dpuf