DPReview Compares Adobe Camera Raw vs. Free Capture One Express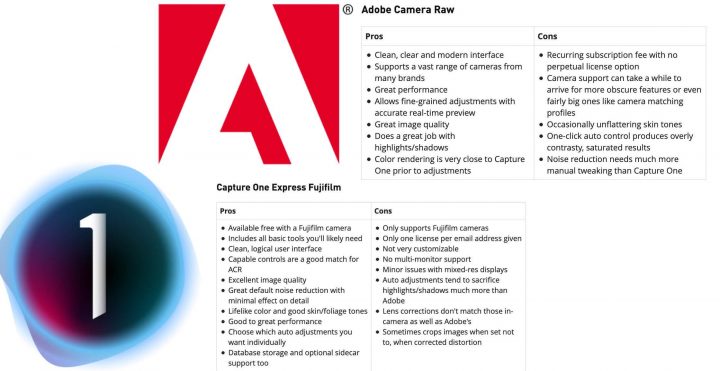 As you might or might not know, I did switch to Capture One back in 2019.
read here – It Was Inevitable: I am Leaving Lightroom for Capture One Pro
I went for the full version (the one that supports all cameras, not only Fujifilm cameras).
But for those of you who would like to make some basic editing without paying a single penny, Phase One offers Capture One Express for Fujifilm.
Capture One Express obviously does not offer all features of the full version, and you can see a side-by-side comparison of the features on this page.
And yet, DPReview went on to compare subscription based Adobe Camera RAW with the free Capture One Express for Fujifilm version.
Down below the final Pros and Cons they identify for each software.
Capture One Express Fujifilm
Pros
Cons

Available free with a Fujifilm camera
Includes all basic tools you'll likely need
Clean, logical user interface
Capable controls are a good match for ACR
Excellent image quality
Great default noise reduction with minimal effect on detail
Lifelike color and good skin/foliage tones
Good to great performance
Choose which auto adjustments you want individually
Database storage and optional sidecar support too

Only supports Fujifilm cameras
Only one license per email address given
Not very customizable
No multi-monitor support
Minor issues with mixed-res displays
Auto adjustments tend to sacrifice highlights/shadows much more than Adobe
Lens corrections don't match those in-camera as well as Adobe's
Sometimes crops images when set not to, when corrected distortion
Adobe Camera Raw
Pros
Cons

Clean, clear and modern interface
Supports a vast range of cameras from many brands
Great performance
Allows fine-grained adjustments with accurate real-time preview
Great image quality
Does a great job with highlights/shadows
Color rendering is very close to Capture One prior to adjustments

Recurring subscription fee with no perpetual license option
Camera support can take a while to arrive for more obscure features or even fairly big ones like camera matching profiles
Occasionally unflattering skin tones
One-click auto control produces overly contrasty, saturated results
Noise reduction needs much more manual tweaking than Capture One
To read the full article, check out dpreview here.