[PRICE: £479 in UK at Jessops] Digicame-Info confirms: Fujifilm X30 to be announced tomorrow and available September 20 (Japan).
[UPDATE: The English store
Jessops
had the X30 already listed on their website. It will cost, according to their site, £479. And again the rumored specs seem to be confirmed. Oh, and again the claim of worlds fastest AF – via
DPreview
, via
Photorumors
]
Digicame-info now confirms some of the Fujifilm X30 rumors posted here on Fujirumors in the past. Announcement August 26, Available September 20, Tilt screen, Control ring, new Film Simulation, available in black and silver and price around ¥ 70,000. Nothing really new, a part from the shipping date, that should start September 20.
As you know, Rico will also publish a first look tomorrow, here on Fujirumors, about a "new X-camera". Given Fuji's announcement history, I'd expect Fuji to officially launch the camera early in the morning in London (around midnight in USA).
NOTE: You've patiently waited and finally Fujifilm X-E2 shooters can download the English version of Rico's book "The Fujifilm X-E2, Beyond the Manual" at Rocky Nook here. And for a few days (until the 10th of September) you can grab it with a 40% discount (use Coupon Code "XE240″ – using PayPal).  Also, Rocky Nook offers PDF, ePub and Kindle all together… DRM-FREE!.
Sample Pages (PDF)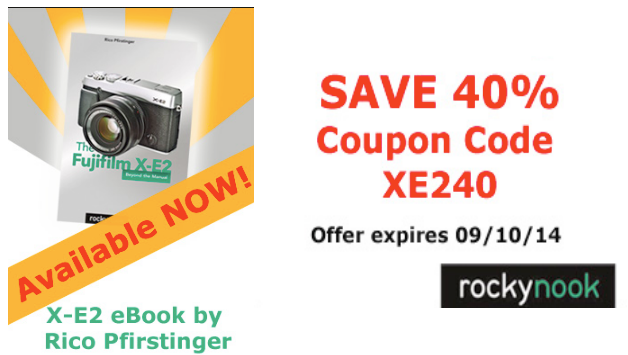 FYI, here is the Fujirumors rumored spec-list:
– Announcement 26th of August (AS)
– 2/3 sensor, 12 MP, X-TRANS 2 (TS + NeS + AS)
– EVF only (TS + NeS)
– EVF specs: 2,36mp, x0.62 magnification and 100% coverage (TS)
– Announcement"this summer" (AS – shared in Febraury 2014)
– Battery: more than 400 shots with one battery and USB-charging (AS)
– Same battery of X100/S, the NP-95. (AS)
– Lens 28-112mm f/2-2.8 with dual ring (Zoom Ring + Control Ring) (SRP + AS)
– WiFi with remote control capability, +/-3 exposure compensation. (NeS)
– 3" Tilt Screen (AS)
– 6 functions buttons and view mode button (SRP)
– New Film Simulation "Classic Chrome" (AS)
– Quite a different design compared to X20 (AS)