Dear FujiRumors Readers… We Have To Talk!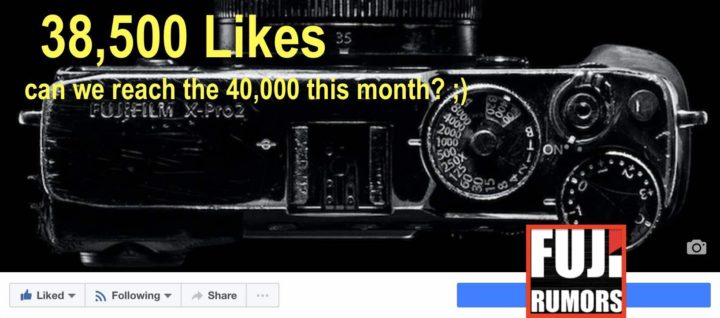 Dear FujiRumors readers… we have to talk… ;)
I'd like to answer and address a few critics today, that pop up regularly and share my point of view in this blog post, so I can avoid to do that every single time in the comments
1) FujiRumors covers too much GFX news

First off: I can understand this critic. But try to consider also this:
Since the GFX announcement on January 19, I've shared a total of 116 articles in 43 days
74 articles that are NOT about GFX (or sometimes not exclusively, like miXed zones, where there is something for everybody)
42 articles were about the GFX only.
So if you are NOT interested in the GFX, you still could read 1.7 articles every single day that do not cover the GFX. And some of those articles, like the huge APS-C lens poll, cost me many (!!!) hours of work.
You see guys… I don't cover less Fuji X Stuff. Actually it's the same as always. I just added all the work needed to cover the GFX on top of the regular X-work. You don't lose a single X-tidbit.
I'm working harder than ever before to try to deliver you the best X/G coverage possible in the worst English imaginable ;)
And it's all free content… you're welcome ;)
That said, there will be moments, where FujiRumors will be more GFX-centric, and moments where I will hardly cover the GFX. I will follow the news and rumors flow, which currently is definitely bringing me to the GFX.
P.S.: Much more free content created by GFX owners can be found at our closed Fujifilm GFX facebook group. If you are not interested in interacting with GFX owners, but only want to get the news, I've just launched the dedicated GFX facebook page: 100% GFX news and rumors 24×7.
2) You should own the GFX to write about it

I'm very happy for everybody, who can afford the GFX. And I'm thrilled to read what you think about it and enjoy your images a lot.
And I'd really love to get one, too, but it's still too expensive for me. And consider that teachers do not get tax deduction on photography gear. However, I'll try to convince my principal, that the school needs a GFX more than a new interactive whiteboard… just need to come up with a good reason. Suggestions? :)
3) Comparing the Fujifilm GFX to "Camera XY" is unfair!

In 5+ years of blogging I've learned one thing: whenever somebody compares 2 cameras, tons of voices raise saying that the comparison is unfair because you can't compare cameras with different price/lens/sensor size/sensor age/megapixel/features/etc.
I agree: there is only one 100% fair comparison: test a certain camera/lens combination with the very same camera/lens combo. For example, GFX+ 63 Vs. GFX+63… that's fair. Everything else is… different. And different is potentially unfair.
But here is my take on this: I believe we can compare everything we want. Everything is legit, valid and potentially interesting for photographers out there.
In fact, one of the questions I receive the most, is if it's worth to switch from Sony A7rII to Fujifilm GFX. And I tell you, for those guys considering a switch, the recent lab test shots comparison can be extremely useful.
The GFX spanks the Sony A7rII in term of image quality. It's unfair? Maybe. But those considering to upgrade to the GFX won't care if it's unfair or not… they just need to know how big the IQ difference is. And hence, they need this comparisons.
4) You sometimes lose the quality in your blog posts

Guys… I think this year I will write about 1,000 blog posts. This means working every single day of the year, always connected, when I'm fine and relaxed, but also when I'm overworked with my day job, after surgeries (you don't want to see that ;) ), when I'm drunk, every weekend, when I'm hiking, when I have severe private and familiary issues, when I'm waiting for a ferry while backpacking through Indonesia, in the deepest night, on my holidays, while sitting in the bus to work, while I'm out with my rumor friends, during short lunch breaks, when I'm very happy or very sad… and a lot more. FujiRumors runs… and runs… and runs… non stop.
It might sound like too much, but sometimes FujiRumors is also a way to distract myself from things that might not go so well. Getting a bit lost in the wonderful Fuji world :) . So I'm ok with that.
The downside: I'm not always 100% fit, and I might not be able to work at my very best all the time in every single of the 1,000 yearly blog post. I might do possibly some errors, or choose the wrong tone, or whatever.
I can't factor out the fact that I'm a human. All I can do is to always put my best into every single article, without pretending the results will always match my own expectations.
Just let me know kindly in the comments, and I promise you I'm that kind of guy, who really cares about it and if possibile will fix/improve. And the fact that on this Saturday I take my time to write you this, should show I really mean this.
5) Thank You

Independent from all this, I know that most of you guys enjoy it to stop here now and then. Thanks for that. And thanks for being such an active and huge community. And thanks also for your feedback, the good and the bad one. Most of you really have a very positive attitude towards me, even when it comes to make me notice some things I could and should improve. And today I felt like I should answer to some of your (often fair enough) remarks.
enjoy your weekend… I'm babysitting, and you?

Fuji X Forum, Facebook, RSS-feed and Twitter