DEAL ALERT: This Coupon Code Gives Savings on All GF Lenses (GF80mmF1.7 Included), X-T4, X100V, X-S10, XF50mmF1.0 and More – UPDATE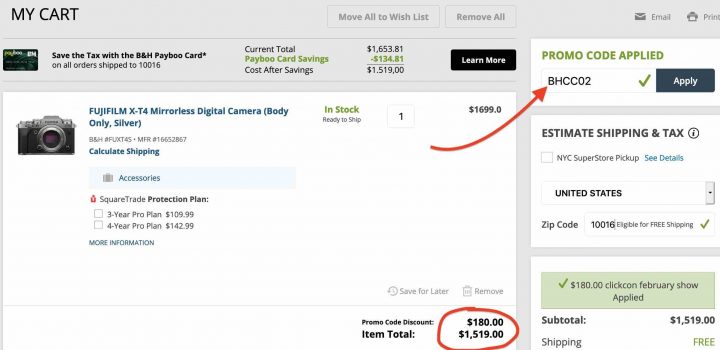 UPDATE: The code lasted only for a few hours and has now expired. I am happy that some of you could get a nice deal thanks to it :)
FR-reader Happy (thanks) noticed and shared with us some sweet deals you can get at BHphoto if you use coupon code "BHCC02″ (apply once product is added to cart).
The deals include all Fujinon G mount lenses (including the brand new Fujinon GF80mmF1.7), the Fujifilm X-T4, the bokeh beast XF50mmF1.0, the Fujifilm X100V and more. The deals are not available at AmazonUS or Adorama.
I have no idea how long the coupon code will remain active, so better act fast and grab now what you want.
Sadly I can't see the Fujifilm GFX100S in offer or other cameras other the the ones I list below.
The coupon code works also on accessories such as Lexar SD cards, Godox flash and Peak Design strap.
At the time of the post, these are the deals (use coupon code BHCC02 at checkout):
GF Lenses
X Cameras and Lensers
Accessories
Use code BHCC02 at once you added the product in the cart.