Changed: Zeiss Touit 50mm available by the end of February! + save $150 on the X100S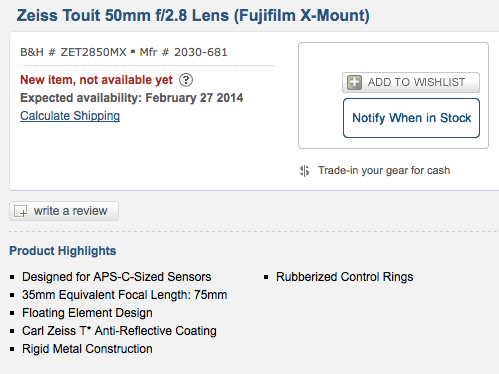 Zeiss Touit 50mm
No, the Zeiss Touit 50mm won't be available already next month as expected by BHphoto here. The store updated it's product page and expects to have it available on February 27. More or less like the 56mm f/1.2 of Fuji?
Riley Joseph said via twitter: "I imagine the Zeiss lenses are filling a gap on the Sony system and they just add an X-Mount."
X-A1
The X-A1 in black and indigo blue is in stock almost everywhere. But if you purchase it via BHphoto you'll get an 16GB SD-card for free. Check the deal here.
X100S
Save $ 150 if you purchase the X100S through top rated eBay reseller cameraland here..
enjoy your day
Patrick (google+, facebook and twitter)