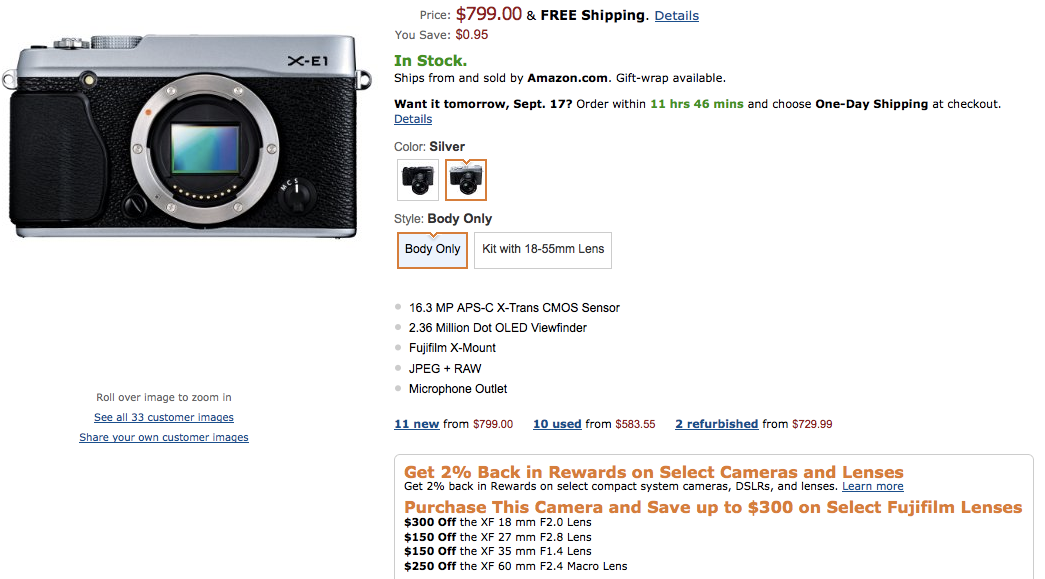 Last days for the crazy X-deals (expire SEP 21). Buy 5 XF lenses and save up to 1,150 (almost the price you'd have to pay for the X-PRO1!)… and prepare for the day when a X-PRO2/X-E2 will be released. You'll already own a lot of XF lenses and you'll just have to buy the X-E2/X-PRO2 body. You could then sell your X-E1/X-PRO1 or use it as a backup camera… and in the meantime enjoy shooting with the X-series!
AmazonUS: Fuji X-E1 / Fuji X-PRO1 – BHphoto: Fuji X-E1 / Fuji X-PRO1 – Pictureline: Fuji X-E1 / Fuji X-PRO1 – Adorama: Fuji X-E1 / Fuji X-PRO1
X-E1S/X-E2 on the way?
Has Fuji really stepped up the release of the X-E1 successor? Well, I've just received a feedback from another new source who told me that the X-E1 successor will be announced already in late October. The new (and unconfirmed) source told me it should happen around the 20th of October.
There is the photoplus Expo in New York (30th anniversary) starting on the 24th of October. This could be a good event to present the X-E1 successor.
But until now everything we know about the X-E1S / X-E2 comes from new and unconfirmed sources so take it with a grain of salt. Any help to dig up information on the X-E1 successor would be appreciated. You can contact me anonymously via rumor box or drop me an email at fujirumor@gmail.com.
And stay tuned on Fujirumors also via facebook, twitter and RSS feed. .
have a great start in this new week

UPDATE: In the meantime Fuji announced the most affordable MILC-X camera, the Fuji X-A1! Check out the X-pert corner special here.
PRE-ORDERS
X-A1 with XC 16-50 ($599): AmazonUS black – blue /BHphoto black – blue / Adorama black – blue
XC 50-230 ($399): AmazonUS black – silver / BHphoto black – silver / Adorama black – silver