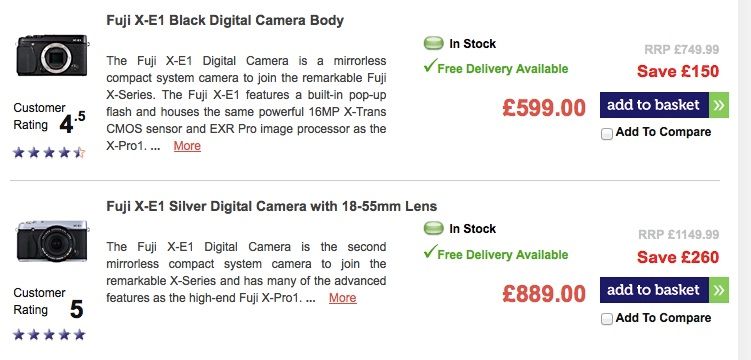 Again, another nice deal for UK citizen!
It started with the massive X-PRO1 price drop at the beginning of this month. Purchase a new Fuji X-Pro1 + a Fuji XF 18mm lens between Friday 1st November and Friday 31st January 2014 and claim a lens FREE (choose between the 27mm, 35mm or 60mm). You'll save £480 / € 600. Offer runs until January 31st January 2014 inclusive. Check out for example the deal at wexUK or jessops.
Here are the combinations I've found till now. Do you find more? And what about other countries? If you find them, feel free to share your deals in the comments or at www.dealsrunner.com. They will automagically appear on the FR-sidebar and everybody will see them.
– X-E1 (£150 off) – click here
– X-M1 with 16-50mm lens (save £70) – click here
– 18mm (save £120) – 35mm (save £120) or 60mm (save £134)
–  X-A1 + XC 16-50 (£30 off) – click here.
– X-PRO1 bdoy (£50 off) – click here.
Thanks drphotorumor for telling me about the deals.