Capture One Launches Editorial Color Grading Styles and Save 20% on Nathan Elson's Capture One Styles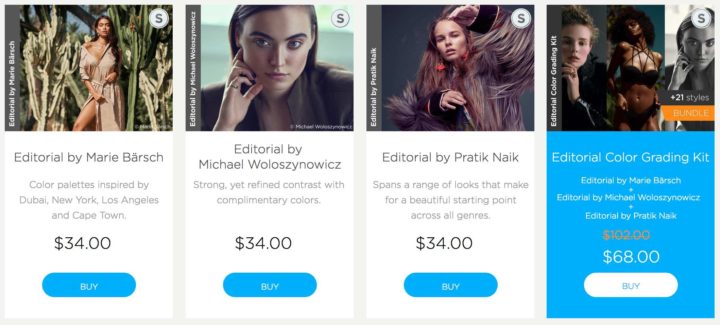 Capture One just launched new editorial color grading styles. Check them out here and read the full press release down below.
Want more styles? Well, Nathan Elson has moved into Capture One as his primary tethering software as well as his RAW editor, and as a result he has created a series of C1 Styles to speed up his workflow and keep consistency to the look of his work. You can check them out here. Save 20% using coupon code "fujirumors".
Capture One Buying options
Press Release
Bringing the coveted styles of top photographers & retouchers exclusively to Capture One
COPENHAGEN, February 7, 2019: Capture One, the world's premier name in image processing software, has released the Editorial Color Grading Style Pack. The Style Pack brings within reach of any user, for the first time, the editorial aesthetic of 3 acclaimed photographers and retouchers whose work can be found in Vogue, Harper's Bazaar, and Cosmopolitan among others.
Michael Woloszynowicz, Marie Bärsch, and Pratik Naik are all celebrated photographers and retouchers with hundreds of thousands of dedicated followers, and years of published work to their names. Their approach is at once contemporary and timeless, and they have chosen to work specifically with Capture One to create 7 Styles each that reflect their individual aesthetic.
Capture One Styles are precisely-designed presets that adjust the overall look and feel of an image with one click yet allow the image to be fully tuned and refined to suit individual taste. With the option to add each Style as a layer and control its intensity, and use multiple layers and Styles per image, Capture One Styles can serve as either a starting point or finishing touch or to give a specific nuanced flair.
The Editorial Color Grading Pack includes 3 sets of 7 Styles made by Michael, Marie, and Pratik, giving a total of 21 unique Styles to choose from. The wide variation of Styles provides countless possibilities to create professional and distinguished editorial images, be it fashion, street, travel, wedding, portraiture, and any other genre of your editorial work.
Pricing and Availability
The Editorial Color Grading Style Pack is available now at the Capture One e-store:
get.phaseone.com/editorial-color-grading
The Styles can be purchased per pack or as an Editorial Color Grading Styles Kit where all 3 packs are added for the cost of 2.
Price per Style Pack: EUR: 39. USD: 34. GBP: 34.
Price for Editorial Color Grading Styles Kit: EUR: 78. USD: 68. GBP: 68