BLACK FRIDAY SALE on X-LR Auto Apply FUJIFILM Film Simulation Plugin for Lightroom, Fringer Smart Adapter, Storage Media and More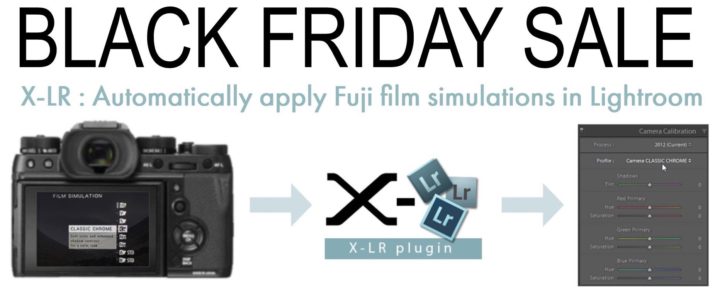 X-LR Black Friday Deal
X-LR, the Lightroom plug-in that reads Fujifilm's Film Simulation from your RAW file and automatically applies corresponding profile when you import your images to LR, is now having a 50% rebate for black Friday.
Just enter the coupon BLACKFRIDAY during checkout.
You can read more about X-LR at lightroomsolutions here, including details of some updates which are almost ready.
We reported first about X-LR back in March 2017 here.
Fringer Smart Adapter
Fringer is offering 10% off for everything.
The quantity and sale time are limited. Please visit Fringer's website for more details!
Storage Media Deals
AmazonUS is offering big savings on storage and memory products. Check out the full list here.
Price drop also on:
Dedicated Black Friday Pages



Check out the full list of black Friday deals available at
Software Deals
Camera/Lens/Accessories/Apple
Fujifilm Camera Deals
Fujinon Lens Deals
Third Party Lens Deals for Fuji X
Accessories & Speedlights
Apple Deals