AtomOS Firmware 10.67 brings Fujifilm GFX100/S ProRes RAW White Balance and ISO Adjustment in Final Cut Pro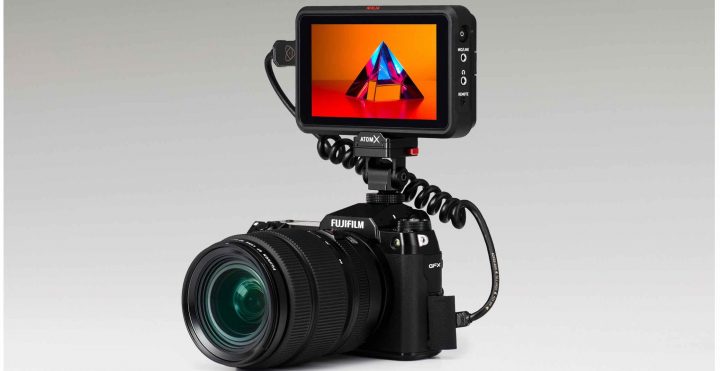 It was one of the big complaints of the DPRTV guys: when you shoot in ProRes RAW on your Fujifilm GFX100/S camera, you won't be able to adjust white balance afterwards in Final Cut Pro.
This has now been solved with AtomOS firwmare 10.67.
Ninja V & Ninja V+ AtomOS 10.67 Firmware update
Users can now benefit from White Balance and ISO/Exposure Offset adjustments for Sony's FX9 + FX6 & Fujifilm's GFX100 + GFX100S cameras within Final Cut Pro.
Down below you can find the release notes and download links.
The GFX Community
Follow FujiRumors: Facebook, Flipboard, Instagram, RSS-feed, Youtube and Twitter
RELEASE NOTES
AtomOS 10.67 NINJA V – download here – firmware page

Important Note:
From 10.61 and above there has been a change to the activation process. The system is now based on downloadable token files from my.atomos.com. The process allows you to activate multiple free codecs (Apple ProRes RAW andAvid DNx) and also unlock other new features via paid activation keys.
To activate codecs on your devices please visit

www.atomos.com/activation

• You will need to register as a new user, or login if you are an existing user to your my.atomos.com account. With

your account live you can add your product or access a previously registered Atomos product.

You will be required to add the new Activation ID (AID) under the ACTIVATION tab/menu of your updated Ninja's

AtomOS 10.67 screen

> (tap top info bar > scroll menu tabs to left > tap ACTIVATION)

Here you will find an AID, DID and a QR code


– Scanning the QR code will place your

DID and AID

into the cache of your phone browser and automatically

complete these details during product registration.
–

You can also copy and paste the link to your desktop browser to use this function.

If you have already registered your device but not added your AID you will need to update your product

registration to do this.-
– Click edit product to add the AID
–

If you experience any issues please contact support@atomos.com

With the AID in place, you will be presented with options for new Activation features and codec options.
The activation token can then be downloaded from my.atomos.com and will also be emailed to your registered email address.All activation keys are for a one time activation and are locked to the registered device you performed the activation on in your my.atomos.com account.Upon download, please unzip and copy the activation.bin file to the root of your SSD (Solid State Drive), insert the disk into your Ninja V and press activate when prompted.
NINJA V
New features
Sony FX9 (PXW-FX9), Sony FX6 (ILME-FX6V), FujiFilm GFX100 and FujiFilm GFX100S
RAW Recording metadata:
WB and ISO metadata support for FCP settings slider adjustments
Fixes
Fixed an issue where the unit would not recommence recording if the Ninja dropped and regained

video input lock while recording H.265
Known Limitations
The following video signals from the DC-GH5S are unsupported on the Ninja V for ProRes DNx and

H.265 modes:
– C4K 8bit 150M 60p
– C4K 8bit 150M 50p
– 4K 8bit 150M 50p


These will be supported in a future firmware update. To work around this please select a 10-bit video

mode on the camera instead.

In some cases, the Ninja V may not lock to a RAW video signal from the Olympus OM-D E-M1 Mark

III for ProRes RAW, when the Ninja V is switched between playback and record modes.

Ninja V may not recommence recording automatically when momentarily losing video signal lock

from the Sony Alpha 7SIII or Olympus OM-D E-M1 Mark III due to a faulty cable connection.

Non-RAW Dual Link SDI video cannot be monitored when in ProRes RAW mode. To monitor and

record Dual Link SDI modes please use either ProRes or DNx modes.

In some cases, dual link video from the Panasonic Varicam LT may not lock when switching from

single link video mode. Please reboot the Ninja V if this occurs