ADOBE + FUJIFILM = SAVINGS! Subscribe Creative Cloud and save 15% on the first year (expires April 30)!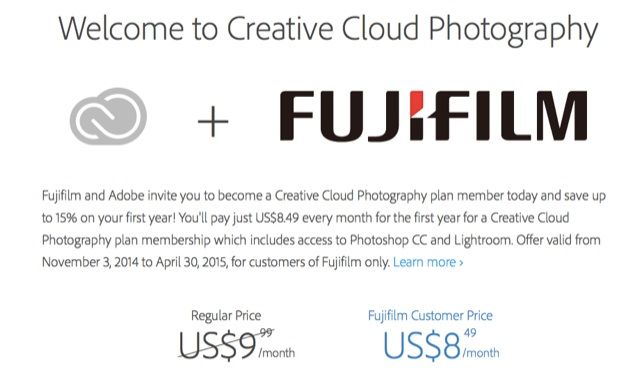 The Spanish site FujiStas spotted the following special X-shooter/Adobe deal:
X-shooters can subscribe to Adobe's Creative Cloud with a special 15% discount for the first year in any country where Creative Cloud is available. Check out the details here.
"Customers of Fujifilm may purchase an annual, paid monthly membership to Adobe Creative Cloud Photography plan for a reduced price for the first year only. Offer valid for purchases of an annual plan, which requires a 12-month contract. This offer is only available to customers who purchase directly from the Adobe Store or by calling a regional Adobe Call Center. This offer is not available to Education, OEM, or volume licensing customers. Offer is only valid in the countries where Creative Cloud is available."