7 Years of FujiRumors: Time to Give Away $100 B&H Photo Gift Card and Answer 10 Crucial Questions in Life :)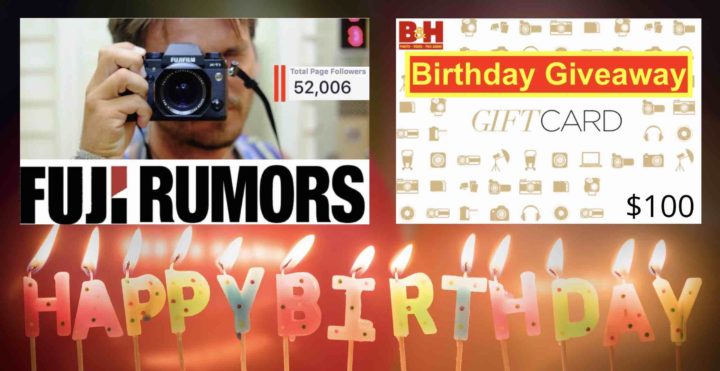 UPDATE: Winner is David H. We are in contact and he received his gift card
What a journey!
Today FujiRumors turns 7 years old.
I would like to thank anyone, who followed me on this journey, by giving away a $100 BHphoto gift card to a lucky winner. All the rules and giveaway entry box down below.
And just so you know me a bit better, here are my answers to 10 crucial questions in life :).
Dog or Cat? Well, this video of me should answer the question, as well as this image on my mountains.
Beer or Wine? Wine, as you can see here next to my X-T1. But I can have hot love affairs with beer, too
Sea or Mountains? Mountains, as it's easy to guess from my Instagram
RAW of JPEG? In my pre-Fuji life I'd have said RAW no doubt, but now I am not so sure anymore. Is answering RAW+JPEG allowed?
35mm or 23mm (in APS-C)? 35mm
Prime or Zoom? Proom ;)
Rangefinder or DSLR style? Rangefinder
EVF or OVF? EVF
Tilt screen of Fixed Screen? I can make good use of tilt screens, if I am not so stupid to forget SD-cards!
X-Trans or Bayer? X-Trans
Giveaway
The previous X mas Giveaway has been won by Peter. He has been contacted and has received his gift card. Now it's your turn. Here are the rules:
Win a BHphoto $100 Gift Card – Direct Link to the Giveaway
You earn entry points if
1) you visit us on facebook
2) you follow us on Twitter
3) you tweet about the giveaway (you can do this option once each day)
Enter the contest by using the giveaway box below or the direct link here
The prize is one (1) $100 BHphoto gift card
Since BHphoto ships internationally, the contest is open to all those countries, where BHphoto ships items and where giveaways of this kind are legally allowed. Check the updated list of countries where BHphoto ships. Also please note that some items cannot be exported due to manufacturer or government restrictions. BHphoto will send you an on-screen notice if you attempt to put an item in your shopping cart or check out an order containing items which BHphoto cannot send to you. Full terms and conditions here.
The last day you can join the contest is January 20
The winner will be contacted by fujirumor@

gmail.com

the day after the giveaway ends and you will receive an email with the BHphoto gift card code. If I don't receive answer within 1 week from the email, I will select a new winner.
This post will be updated once the winner has been randomly selected
have a fantastic day,

Fuji X Forum, Facebook, RSS-feed, Twitter and Instagram