7 Days Left to Win $3,000 with the Big FujiRumors/BHphoto Fujifilm GFX Sweepstake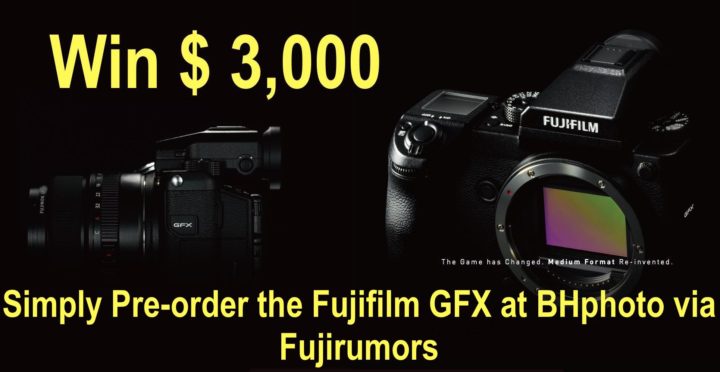 You have time until February 9, 2017, to enter the big Fujifilm GFX Sweepstake and win $3,000.
How?
Just purchase the Fujifilm GFX from B&H through the link provided on the FujiRumors website during the Entry period, and voilá, you are in :)
Here are the main Sweepstake Conditions* and Details:
You must be US resident and at least 18 years old
You can enter starting from January 19 at 00:30 AM NY-Time, through February 9, 2017
Click on any Fujifilm GFX B&H link from our website and pre-order the GFX on that visit.
The BHphoto system will track your FujiRumors GFX pre-order and you will automatically enter the contest. You will not get any email notification that you joined the sweepstake.
One (1) winner will be selected randomly by BHphoto on or about April 3, 2017
The winner will get an AMEX gift card pre-valued at $3000
Yep, it's that easy :-)
And if you are one those, who thinks "I never win something", then you might check out the FujiRumors guest post of last years' X-Pro2 sweepstake winner Frank Stein here, who said:
"I never win anything. I do not count multiple wins of detention in junior high school – but that was 50 years ago. So, needless to say, I was surprised to be the winner of the Fuji Rumors/B&H Photo "Win a X-Pro2" contest."
Just a few people are pre-ordering the GFX via FujiRumors…  and that's good, since this increases a lot your chance to win :-) . So, if you pre-ordered your GFX and didn't use the BH link provided here on FujiRumors, you might consider to cancel your old order and pre-order it again at BHphoto here.
Good luck to everyone,

Fuji X Forum, Facebook, RSS-feed and Twitter
Fujifilm GFX: USA BHphoto – Win $3,000 by pre-ordering at BH via FR*, Adorama, AmazonUS EU: AmazonDE, AmazonUK, WexUK, ParkCamerasUK, PCHstore AUS: CameraPro
*Pre-order the GFX at BHphoto using the FujiRumors B&H link to enter the contest. Price: $3,000. Sweepstake Overview & Rules can be found here. Full Terms & Conditions here.
Join 6,350+ Members at the Fujifilm GFX Facebook Group